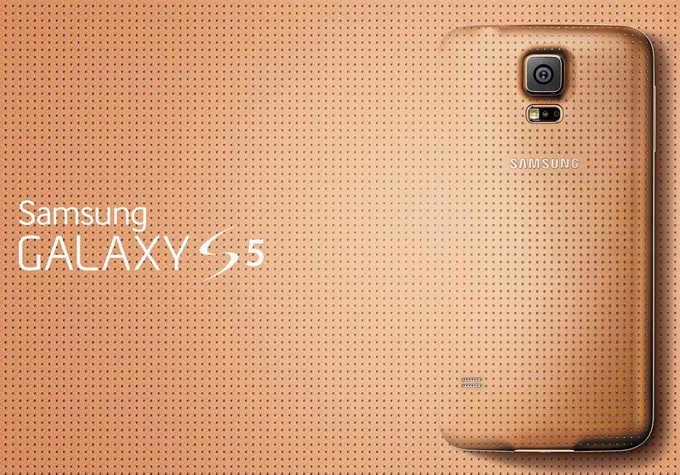 Vodafone UK has acquired exclusive rights to sell the gold-colored Galaxy S5. During the Unpacked 5 event in Barcelona, Spain, Samsung initially stated that the Galaxy S5 would be offered in four separate colors: black, white, blue and gold. However, they didn't say which carriers would offer which colors.
Why Vodafone?
The world's second largest cell carrier, Vodafone UK, announced plans to sell the regal gold Galaxy S5 when it's officially released on April 11th. It's important to note that Vodafone UK has an exclusive deal with Samsung, meaning no other cell carrier can legally sell the gold-colored variant. Of course, there's a pretty good chance we'll see a gold Goophone in the near future…
If you don't want to wait until April 11th to purchase the gold Galaxy S5, you can pre-order it through Vodafone starting March 28th. Be warned, though, the official Vodafone website will probably experience heavy volume due to the Galaxy S5's high demand.
So, why is Vodafone UK offering the exclusive gold Galaxy S5? Although the cell carrier hasn't made an official statement, we're assuming it's to attract new subscribers to their service. By purchasing exclusive rights to the Galaxy S5, Vodafone UK is certain to generate some new signups. If someone has their heart and soul set on purchasing a gold Galaxy S5 but are currently stuck with a different provider, there's a good chance they'll make the switch just for the gold Galaxy s5.
The Bottom Line
Is a gold colored smartphone — even if it's the coveted Galaxy S5 — really worth switching cell carriers? I guess it depends on how badly you want a gold phone. Some people will obviously go out of their way for the unique, regal look of a gold Galaxy S5, but the color and appearance of a smartphone is something you can change with a new case.
"I think design is still one of the most important purchase decision-makers that we hear from our consumers. We've focused on a 'modern glam' look for our design inspiration for the new Galaxy S5. That's represented in the four colours we've got available, as well as the introduction of texture," said James White, head of Samsung's mobile product development.
Vodafone will also offer the Samsung Galaxy S5 in the standard white, black and blue colors.
Do you prefer the gold, blue, black or white Samsung Galaxy S5? Let us know in the comments section below!