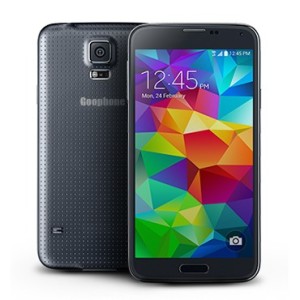 It didn't take very long for a knockoff of the Samsung Galaxy S5 to show up on the market. Just two days after the South Korean company unveiled their latest flagship smartphone, the 'Goophone S5' (yes, that's really the name of it) was being marketed to consumers. So, what makes the Goophone S5 different than the actual Galaxy S5?
As you can see in the photo to the right, the Goophone S5 looks nearly identical to the Samsung Galaxy S5. They both feature the same rectangular-shaped body with slightly rounded corners, a soft texture back, and even the same front design with a physical home button. With the exception of the word "Goophone" printed on the back, most people would probably assume it's an authentic Galaxy S5.
But don't let the Goophone S5's appearance fool you into thinking its the real deal. One minor nuance between the two devices is screen size. The Samsung Galaxy S5 features a 5.1″ diagonal screen, whereas the Goophone S5's screen is 5″. The major differences between the two devices, however, lies in the hardware. You can kiss the Samsung Galaxy S5's ultra-powerful 2.5 GHz quad-core Snapdragon 801 processor goodbye, as the Goophone is powered by a measly 2GHz octa-core MediaTek chip. The Goophone also uses a 13-megapixel rear-facing cameras as opposed to the Galaxy S5's 16-megapixel camera.
Another major drawback to the so-called Goophone is its lack of LTE; it uses strictly 3G technology. This will likely be a huge disadvantage for most U.S. residents, but individuals living in countries where LTE is nonexistent won't find any issue with the Goophone's pure 3G technology.
So, how much does the Goophone cost? While their website states the device is currently out of stock, it's priced at $299.99. There's still no word yet on pricing for the Samsung Galaxy S5, but reports suggest will cost around $699.99 without a contracting. The Goophone may seem attractive with such a low price, but you have to ask yourself if it's really worth it. Personally, I don't believe the savings alone is enough to make me choose it, but apparently it's popular enough for the knockoff device to sell out.
"Goophone has always been forward best smartphone. With new design, this new generation Goophone S5 you have never seen it. Goophone S5 is world's first smartphone powered 2GHz MediaTek MT6592 true octa-core processor, along with 2GB DDR3 RAM, bring better operating experience to us."

What do you think about the new Galaxy S5 knockoff? Let us know in the comments section below!