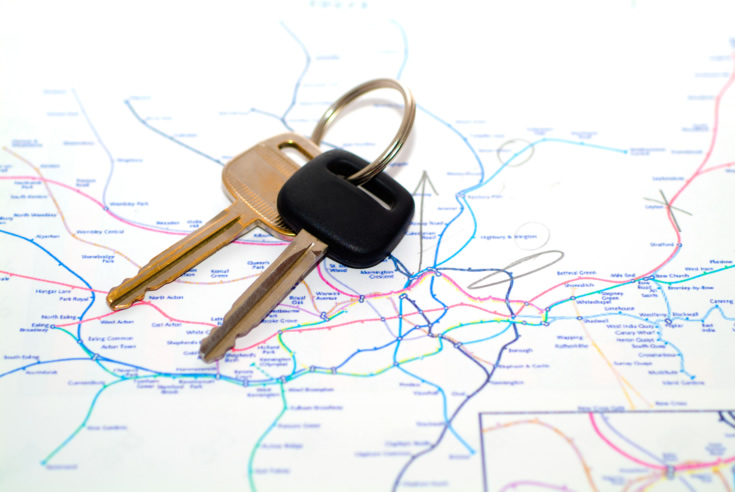 We blogged about Samsung's ingenious "Wall Huggers" promo video for its flagship smartphone last month, which captured the attention of Galaxy S5 fans and critics alike. Samsung has always been on the forefront of experimenting with new marketing methods, but even this was a first. Apparently, however, the Wall Huggers video did well, because the South Korean-based tech company released yet another Galaxy S5 promotion video.
Published July 18, 2014 to the video-sharing site YouTube, "Galaxy S5 One Charge Challenge: Coast to Coast" is a promotional video that showcases the Galaxy S5's Ultra Power Saving Mode. As the video title suggests, it follows two men who travel from coast to coast without recharging their battery.
And in case you were wondering, the guys in the Galaxy S5 One Charge Challenge: Coast to Coast video still sent text messages, snapped photos, and even took videos — all processes that require battery power. This video is a true testament to the Galaxy S5's phenomenal battery life, as well as its highly efficient Ultra Power Saving Mode.
According to Samsung, the two guys in the video sent 85 text messages, snapped 119 photos, shot over 4 minutes of video, and talked for over 16 minutes — all on a single charge.
"We put the Galaxy S 5 with Ultra Power Saving Mode to the ultimate challenge — a coast to coast road trip without recharging," Samsung explains. "The results: 3504 miles driven, 7 days on the road, 150 hours traveled, 86 texts sent, 119 photos taken, 4+ minutes of video, 16+ minutes of talk time, 13 states visited."
Galaxy S5 One Charge Challenge: Coast to Coast
Check out the video above to see the single-charge Galaxy S5 road trip. Granted, the video is only two and a half minutes in length, so it's safe to assume there are some moments omitted, but it's a fun video nonetheless that reveals the true power of the Galaxy S5.
How were these guys able to make it across 13 states on a single charge? The secret lies within the Galaxy S5's unique Ultra Power Saving Mode — a new technology that maximized battery life by turning off most connectivity features and switching to black and white mode. Phone Arena reports that a Galaxy S5 device with just 10% battery can run for 24 hours in Ultra Power Saving Mode.
What are your thoughts on Samsung's One Charge Challenge: Coast-To-Coast video? Let us know in the comments section below!