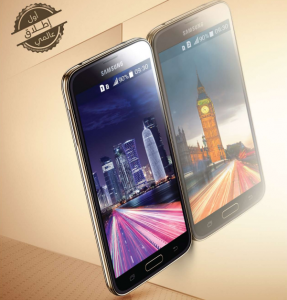 Samsung is reportedly preparing to release yet another variant of its flagship smartphone, titled the "Galaxy S5 Duos LTE." This variant, which features the model #G9009D, comes with two SIM slots instead of the standard one. With dual-SIM slots, users can set up their Galaxy S5 device for use with two different phone numbers (e.g. a personal and business phone line).
In all honesty, this isn't exactly a new variant, as the Galaxy S5 Duos LTE was released into China back in April with a staggering $850 price tag. Samsung announced earlier this month, however, that it was releasing it internationally, starting with the United Arab Emirates and Qatar. Once released in AUE and Qatar, Samsung will push the variant in Poland, before eventually bringing it to the U.S.
So, how much will the Galaxy S5 Duos LTE sell for in the U.S. According to IB Times, Welectronics plans to sell the device for $899 — a steep increase from the device's original price tag of $850. Some consumers already complain that the launch-edition Galaxy S5 is too expensive, so jacking the price could backfire on Samsung.
To determine whether or not the Galaxy S5 Duos LTE is worth the cost, you should first look at its specifications. One of the major selling points of this variant is its dual-SIM slots, which allows users to setup their device with two different phone numbers. The Galaxy S5 Duos LTE features most of the same specs as the original including a 5.1″ Super AMOLED display with 1,080 x 1,920 pixel resolution, 2 GB RAM, 16/32 GB storage, quad-core Qualcomm Snapdragon 801 processor, Android KitKat 4.4.2, and Samsung's own TouchWiz user interface.
Both the original Galaxy S5 and Duos LTE are IP certified to resist dust and water. This doesn't necessarily mean that you should submerge your device in water, but exposing it to "minor" amounts of water shouldn't result in any permanent damage.
The only real difference between the Galaxy S5 launch edition and Duos LTE variant is the presence of an extra SIM slot and weight (the Duos LTE weighs slightly more). Will consumers spend the extra money for the ability to use two SIM cards? I guess this is something we'll have to wait to find out.
Do you think the Samsung Galaxy S5 Duos LTE is worth the money? Let us know in the comments section below!