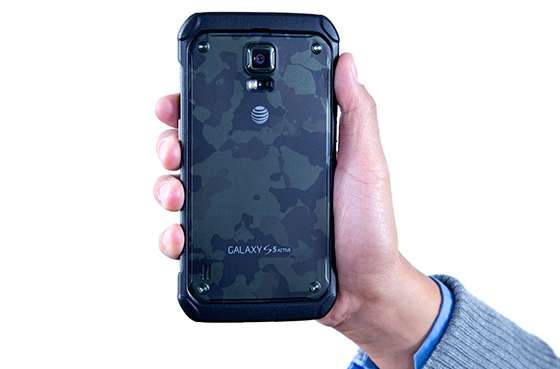 Samsung's rugged outdoor variant of its flagship smartphone is now available for sale. The Galaxy S5 Active offers all of the same features as the original Galaxy S5 while introducing several new ones in the process. So, how does in fare in comparison to the original Galaxy S5?
Under the hard rugged body, the Galaxy S5 Active is strikingly  similar to the original. It's powered by a 2.5GHz quad-core Snapdragon processor, 2GB of RAM, a 5.1-inch Full HD Super AMOLED display, 16GB capacity, and a micro SD slot for additional storage. And you can go ahead take a deep sigh of relief, because the Active variant also has the same 16-megapixel rear-facing camera that's attracted so many users to the Galaxy S5.
But there's an obvious visual difference between the Galaxy S5 Active and original Galaxy S5. The Galaxy S5 Active, as depicted in the image above, is larger, thicker, and more protected. Protection is always a plus, especially for users who take their device hiking, biking, or through other outdoor activities, but some people may argue that Samsung went overboard with the Galaxy S5 Active. The USB port is covered by a soft flap, which we assume is there to protect it from the elements.
In addition to weighing nearly an ounce heavier than the original, the Galaxy S5 Active is also 0.13″ taller, 0.04″ wider, and 0.03″ thicker. How much of a difference does this make? It's certainly a noticeable difference when you compare the two devices side by side. The Galaxy S5 Active is bigger, heavier and bulkier, which may turn away some people from choosing it over the original Galaxy S5.
Unfortunately, the magic is somewhat lost with the Galaxy S5 Active. The Galaxy S4 Active boasted water and dust-resistant technology, which was something the original Galaxy S4 didn't have. With the Galaxy S5 already having water and dust-resistant technology, however, some people are questioning whether or not the Active variant is worth the money. Well, it does offer slightly more protection against water, dust and shock, so outdoor enthusiasts may benefit from choosing the Galaxy S5 Active over the original model.
"Now your smartphone can be just as active as you are. Rugged and powered with innovation, the Samsung Galaxy S® 5 Active™ delivers integrated technology that improves your life and makes every day better."
What are your thoughts on the Samsung Galaxy S5 Active? Let us know in the comments section below!