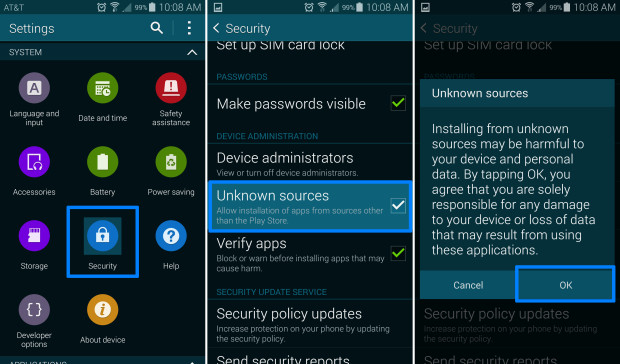 Users of the Samsung Galaxy S5 can now gain root access to the device using a new method released by hacker George Hotz.
What Is Rooting?
Rooting is basically a method of gaining access to the core files of a device. Most smartphone manufacturers lock these files to prevent users from removing, adding, or otherwise editing certain functions. By locking the device's core files, however, users are restricted to what they can modify and what they can't. Rooting a device "unlocks" these restricts, granting the user full freedom to modify the device however they choose.
Towelroot
The Galaxy S5 rooting method released by hacker George Hotz uses a program known as Towelroot, which allows Android users to bypass Samsung's software limitations on the Galaxy S5. Digital Trends reports that Hotz was able to create Towelroot using a software bug in Linux, and since Android is a variant of Linux, the tool is compatible with Android-powered smartphones.
Towelroot.com states the following in regards to Hotz's new rooting tool:
"no warranty expressed or implied
my second android root
vuln thanks to disclosure by Pinkie Pie
with love for my rap career

if this doesn't work on your phone
e-mail my gmail geohot+towelroot
with "adb logcat" output and build
and we'll see what can be done"
How To Root The Galaxy S5
Rooting the Galaxy S5 is actually easier than most people think, thanks to Hotz's new method. Users must first visit Towelroot.com and click on the lambda symbol to download the APK file. Once installed, open the app and click on the "Make it Ra1n" button (yes, that's really it's name). The entire process should take about 15-20 seconds, at which point your Galaxy S5 will be rooted!
Newcomers to rooting may experience difficulty installing and opening apps from non-Google Play sources. To rectify this issue, you must access Settings > Security > and check Unknown Sources. Having this option checked/enabled allows you to install applications from sources outside of Google Play. The Galaxy S5 has this option disabled by default for security reasons, but you can easily enable it under the device's Settings.
This Method Works on Other Devices Too
According to Hotz, this rooting method also works on the AT&T Galaxy S4 Active, Google Nexus 5, AT&T Galaxy Note 3 and Sprint Galaxy Note 3.
Hotz should be entitled to a bounty for gaining root access to the Galaxy S5, although we haven't heard any official confirmation from XDA Developers.