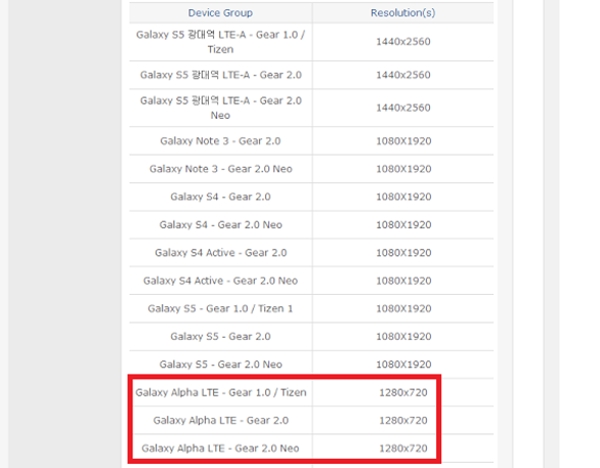 We've known about Samsung's upcoming premium Galaxy S5 variant for some time. It's been called the Galaxy Prime, Galaxy F, and now the  Galaxy Alpha. While most people were expecting the South Korean company to wow us with high-end hardware and software specs, it looks like the Galaxy Alpha could be a little underwhelming.
So, what's the scoop on the Samsung Galaxy Alpha? SamMobile published a screenshot of Samsung's developer console earlier this week (see image above), revealing a surprising display resolution of just 720p. Assuming the screenshot is correct, the Samsung Galaxy Alpha will run  720p resolution. Granted, that's technically considered high-definition, but we were expecting higher resolution for its premium flagship variant. The launch-edition Galaxy S5, after all, features 1080p screen.
It's worth noting that the screenshot only reveals the name "Galaxy Alpha;" therefore, it's safe to assume Samsung will call its new variant the Galaxy Alpha and not the Galaxy Prime or Galaxy F. Personally, I prefer the name "Galaxy Alpha" over the other suggested variant names. It's catchy, simple, and it sounds dominant. But a name is only going to take the device so far, it's up to Samsung to follow through with the hopes of consumers by releasing a solid device that likes up to its namesake. I'm not sure that any smartphone can boast the title of "Alpha" with a 720p display.
Other rumors suggest the Galaxy Alpha will feature a 4.8″ screen — a substantial decrease from the launch-edition Galaxy S5's 5.1 screen. Based on the screen size and resolution, this new variant is comparable to the Galaxy S3, which was launched over 2 years ago.
TechRadar.com also reports that the Galaxy Alpha won't have a MicroSD card slot. Being limited to the device's 32 GB of storage space is a serious flaw, especially for people who take photos and video on a regular basis. While I'm sure you can upload your data to the cloud, there's really no reason why any next-gen smartphone shouldn't have a microSD slot.
Why is Samsung opting for smaller, less powerful components with the Galaxy Alpha? This is a question that everyone is asking themselves right now. Of course, it's important to note that these are merely rumors. The Galaxy Alpha could boast an entirely different set of specs. In the meantime, check back with our blog here at GalaxyS5US.com for all  of the latest news and rumors!
What do you think about Samsung's new Galaxy S5 Alpha? Let us know in the comments section below!