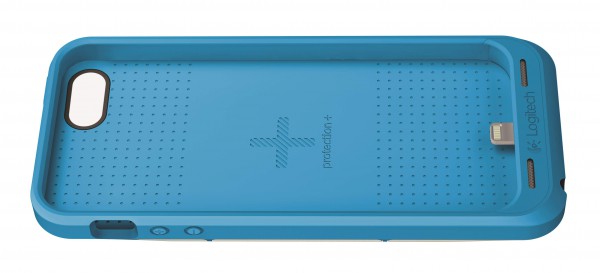 Still searching for a durable yet stylish case for your Galaxy S5? Logitech launched a new Logitech Protection [+] (Plus) case earlier this month. While there are dozens if not hundreds of Galaxy S5 cases available on the market, the Protection [+] takes a bold step in a different direction. It offers a unique combination of style, comfort, durability and usability features that simply aren't found in other cases. To learn more about the new Logitech Protection [+] case and what it has to offer, keep reading.
The Logitech Protection [+] lives up to its namesake by delivering more than just your average protective outer shell. Before we go into the special features it offers, however, let's first talk about the physical design of this innovative new the case. According to the company's website, the new Protection [+] case is designed withstand drops, bumps and scratches. It's even tested to exceed the Military Drop Standard (MIL-STD 810G), which is pretty impressive to say the least. The Logitech Protection [+] will protect your Galaxy S5 from drops of 1.2 meters high, and it contains a layer of soft thermoplastic rubber to absorb shocks and blows.
But the real beauty of the Logitech Plus [+] is its built-in 1800 mAh battery. This essentially doubles the battery life of a standard iPhone 5 and extends the life of a Galaxy S5 by 80%. Given the fact that the Galaxy S5 already features high-tech power-saving features, pairing your device with the Logitech Plus [+] will push it even further.
"Protection [+] power extends the lineup of cases we introduced earlier this year and plays double duty for people looking for more battery power while they're on the go. We designed the case to fit today's incredibly active, yet connected, lifestyle. For the iPhone, it includes a built-in 1800 mAh battery that doubles the charge of your iPhone. And, it increases the battery life of the Samsung Galaxy S5 by 80 percent, with a battery capacity of 2300 mAh," wrote Logitech in a product description of its new Protection [+] case.
The Logitech [+] case is available for the Galaxy S5, iPhone 5 and iPhone 5S. Current styles include black/grey and white/blue, both of which are sold for $100 with free shipping through the official Logitech website.
What do you think of the new Logitech case? Let us know in the comments section below!