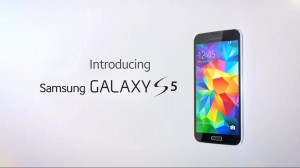 Curious to know what Google's upcoming Android 5.0 L operating system will look like on the Galaxy S5? While it's still months away from being officially released (we assume), the folks over at SamMobile.com recently published a video which shows Android L running on the Galaxy S5.
How were they able to install Android L on the Galaxy S5? SamMobile claims that unnamed "sources" provided the Android L test build for Samsung's flagship smartphone. Initially, their goal was to make the new firmware available for every Galaxy S5 user on the planet, but this vision was soon shot down once they released just how many bugs and quirks needed fixing. Nonetheless, the preview video gives us fans a sneak peak into the future of the Galaxy S5 and other Android L-compatible devices.
Samsung typically drags its feet when it comes to rolling out new Android updates, but there's a good reason for its procrastination: the Galaxy S5 uses its own TouchWiz UI on top of the standard Android OS. This often creates some compatibility problems which Samsung must fix before releasing new Android updates to the Galaxy S5. In the preview video showing the Galaxy S5 running Android L, however, it appears to work fairly well. SamMobile reports that Samsung has eliminated the archaic blue theme in favor of a more modern white theme.
"We were actually really curious to see what changes would Samsung do to its TouchWiz interface in order to comply with Google's brand new design guidelines, and we must say, so far we like what Samsung has done with its proprietary user-interface. Samsung has finally ditched the good old blue theme, which it has been using since the Galaxy S2 for a brand new white dye. To be honest, this change was long overdue," wrote SamMobile.
The video also gives us a glimpse into the Android L's Material theme, which looks and feels more natural. Android L is expected to be the largest and most comprehensive update in the history of Google's Android OS. In addition to the Material theme, it will introduce new power-saving technology, notifications, and even better all-around speed and performance thanks to its use of ART runtime.
Video: Exclusive Preview – Android L on Samsung GALAXY S5
What are your thoughts on Google's upcoming Android L OS? Let us know in the comments section below!