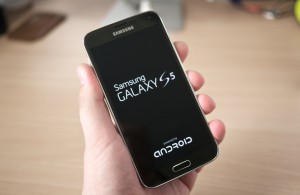 You might have to wait a little while longer to get your hands on the Galaxy S5 Mini. According to a recent report published by SamMobile, Samsung is preparing to launch the new miniaturized version of its flagship smartphone in July.
So if you've been patiently waiting to purchase the Galaxy S5 Mini, you may want to choose a different device. Assuming this information is correct, it could take nine months (or longer) before it's even released. Why is Samsung waiting to release the Galaxy S5 Mini when the device is more than likely already finished?
We can only speculate as to why Samsung is waiting to release the Galaxy S5, but one theory is that it's hoping to capitalize on the Galaxy S5 brand name. Samsung has spent millions of dollars promoting the Galaxy S5, which is apparent if you watch the television or listen to the radio. With the Galaxy S5 brand already known to so many people — both in America and abroad — the Galaxy S5 Mini should sell with little effort. This will allow Samsung to continue selling devices well into 2015, even as demand for the original Galaxy S5 begins to subside.
The Galaxy S5 Mini will live up to its namesake by offering users a smaller, lighter and more compact design. While Samsung has yet to confirm the device's official specs, leaked reports suggest it will feature a 4.5″ Super OLED screen with 720×1280 resolution, 1.5GB RAM, quad-core Exynos 3 processor, 8-megapixel primary facing camera, 2.1-megapixel secondary camera, and the same IP67 certified dust and water resistant body as the original Galaxy S5.
Being that the specs are less awe-inspiring than the Galaxy S5, we can expect Samsung to offer the Galaxy S5 Mini at a lower price. The exact cost of the device remains a guessing game at this point in time. Some media outlets are reporting it will cost around $400 without a contract, while others are claiming it will be closer to $600.
"The Galaxy S5 Mini has been leaked numerous times in the past few weeks, with our exclusive post revealing its photos and specs leaving nothing to the imagination. Today, we have received some information about the release date of the Galaxy S5 mini – according to our source, the device will go up for sale in markets worldwide in mid-July," wrote SamMobile.com.
Are you holding out for the Galaxy S5 Mini? Let us know in the comments section below!