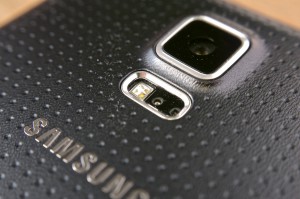 And you though the original Samsung Galaxy S5 was the world's best smartphone. Now, it appears the South Korean tech giant is working to produce an even better-looking version of its flagship smartphone. While Samsung has yet to confirm this rumor, there's plenty of evidence popping up online which suggests the Galaxy S5 Prime will hit the market soon.
SamMobile was the first to spill the beans about an upcoming 'premium' variant of the Galaxy S5. According to the article, Ming-Chi Kuo, KGI Securities' analyst, revealed Samsung is working on multiple Galaxy S5 variants, including the upgraded model that's known by Samsung employees as "Samsung KQ."
Galaxy S5 Prime: What To Expect
So, what can you expect to see in the Samsung Galaxy S5 Prime? We don't have much to go on other than the leaked source published at SamMobile; however, the article says the new Prime variant will feature a faster Exynos 5430 SoC with a 2.1GHz Corex-A15 and 1.5GHz Cortex 7 cluster, and an additional Cortex-A5 co-processor deserved strictly for audio coding/decoding.
We do have one other piece of information to go on: a GFXBench sighting of a new Samsung smartphone build SM-G906S handset. Specs for the build include a 2560 x 1440 display, 2.5GHz quad-core Qualcomm Snapdragon 805 processor, Adreno 420 GPU, 3GB RAM, 32GB storage, 16-megapixel rear-facing camera, 2-megapixel front-facing camera, and Android 4.4.2 KitKat.
All-Metal Body
The rumored feature of the Galaxy S5 Prime that's raising the most eyebrows is its all-metal body. Unlike the launch-edition Galaxy S5, the new Prime variant is rumored to feature a body that's made entirely of metal. Transitioning from a plastic to metal body is certainly a bold move, and it could backfire if it turns out problematic for consumers.
Some people might be wondering why Samsung would even attempt to create a Prime variant. After all, the original Galaxy S5 continues to dominate in the smartphone market, with analysts predicting an estimated 35 million units being sold in the first 3 months of its release. But Samsung is known to push the boundaries with their products, and they aren't going to simply call it quits with the original Galaxy S5's success.
Would you trade in your launch-edition Galaxy S5 for the new Prime? Let us know what you think about Samsung's upcoming variant in the comments section below!