Samsung is preparing to release a new crystal-encrusted variant of its highly popular flagship smartphone, the Galaxy S5. Known as the "Crystal Collection" – for obvious reasons – it will feature a massive array of crystals covering the back. So if you're tired of looking at the same generic shell case day after day, Samsung has the solution to your problem.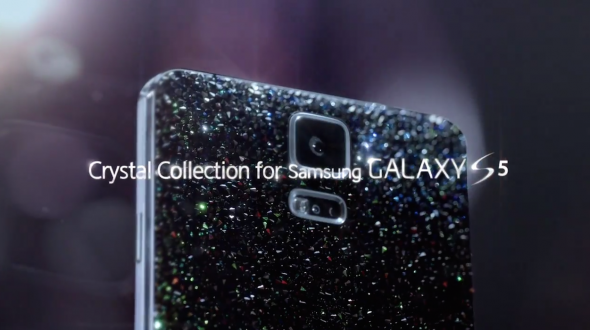 Samsung has yet to provide any details regarding the Galaxy S5 Crystal Collection, but they did release a short promo video on YouTube. The video, which you watch below, was published from the company's South Korean YouTube account. This could mean the Galaxy S5 Crystal Collection will have a limited release in certain Asian markets, or it could hold no relevance; again, Samsung hasn't made an official statement about the upcoming Crystal Collection, so take this information with a grain of salt.
Galaxy S5 Crystal Collection Promo Video
As you can see from the short promo clip above, the Galaxy S5 Crystal Collection variant features a brilliant array of sparkling crystals on the back of the device. From what we can tell, it appears to be a standard black-colored Galaxy S5 with the crystals embedded onto the back. Samsung may open this variant up for purchase in additional colors and designs, however.
The Galaxy S5 Crystal Collection doesn't use your standard craft-grade crystals. From what we've been told, Samsung has teamed up with legendary Austrian crystal designer Swarovski to use their products on the Galaxy S5. With over a century of experience, Swarovski is the undisputed leader of luxury cut glass, making them an excellent choice for the Galaxy S5. The bragging rights of saying you have a Swarovski-covered Galaxy S5 alone makes it worth additional cost.
We have to bring up one issue that could hinder the Galaxy S5 Crystal Collection's ability to enter the mainstream market: what happens when crystals begin to fall off? If you've ever owned something that's encrusted in crystals or gemstones, you're probably well aware of just how easy it is for them to fall off. And let's face it, no one wants to tote around a phone with a dozen or so missing crystals.
So, when can you expect to see the Samsung Galaxy S5 Crystal Collection available for sale? According to the promo video, Samsung will release it sometime in May.