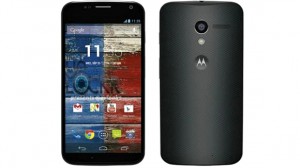 Motorola released a newly updated model model of its flagship smartphone, the Moto X, earlier this month. The new and improved 2014 model features several cosmetic and under-the-hood improvements. So, how does Motorola's latest device fair against Samsung's Galaxy S5?
Display
If you were to compare the two devices side by side, you probably wouldn't notice much (if any) of a difference in size. The Moto X features a 5.2″ full-HD display screen, whereas the Galaxy S5 is just a hair smaller at 5.1″. Both display screens are Super AMOLED with a high pixel-density resolution.
Water Resistance
Samsung touts its flagship smartphone as having IP67 dust and water-resistant body. This doesn't necessarily mean you can drop it in a lake and expect it to work, but light exposure to moisture and dust shouldn't cause any damage. The Moto X does not have this same IP67 dust and water-resistant body. Instead, it features a light water-resistant coating on the screen, which is better than nothing I suppose.
Storage
The Galaxy S5 is equipped with 32GB internal storage capacity along with a MicroSD slot for expansion. The Moto X, on the other hand, is available in either a 16 or 32 GB model, and it does not feature a MicroSD slot for expansion.
Weight
Both devices weigh roughly the same, with the Moto X weighing 144 grams and the Galaxy S5 weighing 145 grams. You shouldn't notice any difference in weight between these two smartphones.
Processor
Now lets talk about the processing power that's driving these two high-end devices. Again, there's no clear winner between the two contenders because they are both powered by a quad-core Qualcomm Snapdragon 801 processor clocked at 2.5GHz.
RAM
The Galaxy S5 and Moto X both have 2GB RAM.
Operating System
The Galaxy S5 and Moto X both run Android 4.4 KitKat. The only difference in software between these two devices is that Samsung includes its signature TouchWiz theme on the Galaxy S5. This adds a few helpful tools and utilities to the device which aren't found in the Moto X.
Price
There's one area where the Moto X excels above the Galaxy S5: the price. Samsung's flagship smartphone is currently being sold for roughly $600-$650 (without a contract), whereas Motorola's latest flagship smartphone is being sold for just $500 (without a contract). That's a pretty steep difference that may deter some people from buying the Galaxy S5.
Do you prefer the Galaxy S5 or Moto X (2014)? Let us know in the comments section below!