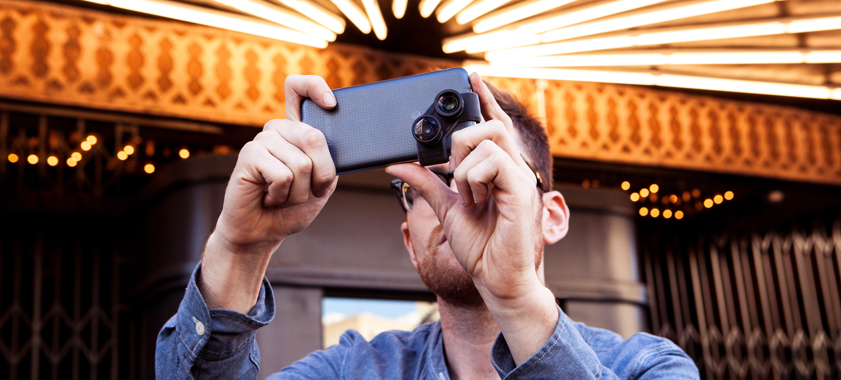 The California-based startup company Olloclip unveiled its signature 4-in-1 camera lens attachment for the Samsung Galaxy S5 earlier this month. If you're a Galaxy S5 owner who's constantly snapping photos left and right, you'll want to check out this revolutionary new product. Although small in size, the Olloclip is a powerful attachment that opens up a whole new world of possibilities for the Galaxy S5.
The Olloclip isn't a new product by any means. While the company has just recently unveiled its Galaxy S5-compatible product, they've been producing similar lens attachment products for the Apple iPhone for several years. Up until recently, though, only iPhone users were given the opportunity to own this nifty device.
So, what exactly is the Olloclip? It's basically a small attachment with four different lenses that's designed to fit over the phone's camera. The Galaxy S5 already boasts an impressive 16-megapixel primary camera, but users can improve the quality and dynamics of their photos by utilizing the Olloclip. The Olloclip adds fisheye, wide-angle, a 15X magnification, and 10X magnification lens to the Galaxy S5. With four new lens types added, Galaxy S5 owners can snap some truly amazing and unique photos that are superior to other smartphone cameras.
Unfortunately, you won't be able to get your hands on the Olloclip for the Galaxy S5 just yet. The company is now accepting preorders through its site, with both the iPhone and Galaxy S5 models priced at $69.99. While there's no specific date announced for its release, a spokesperson for Olloclip said they plan to ship the Galaxy S5-compatible model this month. Check out the company's official website at http://www.olloclip.com/ for more information about the release of its new Galaxy S5-compatible model.
"Leveraging the phenomenal success of its iPhone flagship product, the olloclip 4-IN-1 Photo Lens systems for the Samsung Galaxy S5 and S4 feature four lenses (fisheye, wide-angle and two macros – 10x and 15x) in one small package weighing less than an ounce.   The all-new designed exclusively for Galaxy S quick-change lens system is similar to those available with larger DSLR cameras, yet sized to fit in pockets, purses, backpacks and hands, making them the perfect camera accessory that can easily be carried at all times," wrote Olloclip in a press release announcing its new Galaxy S5-compatible lens attachment.
Video: Olloclip 4-in-1 Lens For Samsung Galaxy
Have you tried the Olloclip yet? Let us know what you think in the comments section below!