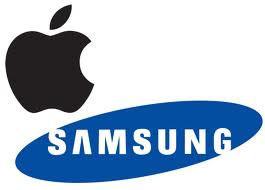 2014 is going to be a major year for the smartphone market, as both Samsung and Apple prepare to release their flagship devices. The Samsung Galaxy S5 is rumored to be unveiled at the Unpacked Event on February 24th, while the Apple iPhone 5 is rumored for release later this summer. While you can rest assured that both of these smartphones are going to raise the bar for other manufacturers to follow, this doesn't necessarily mean they are equal.
Let me first start off by noting the obvious difference between the Samsung Galaxy S5 and Apple iPhone 6: operating system. While people will constantly argue over which operating system is the "best," Android is considered a more versatile and flexible platform. This doesn't necessarily mean that Apple iOS is a poor choice, but Android doesn't come with all of the restrictions commonly associated with Apple products.
Earlier this month, top South Korean brokerage KDB Daewoo Securities recently sent a note to one of its clients comparing the specifications of the Samsung Galaxy S5 and Apple iPhone 6. The website oled-display.net then picked up the note — which includes an image (see below) — and published it on their website. This isn't an official document, so the specs could change before the device is released, but oled-display.net has a strong reputation for releasing accurate information.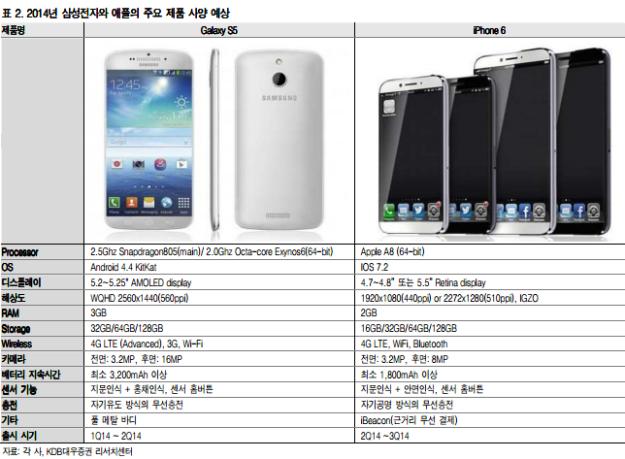 Screen Size
The Samsung Galaxy S5 is the winner when it comes to screen size. One of the reasons why the Galaxy S4 is such a success is because of its large, oversized display. Samsung is keeping up with this formula for success by using a 5.25″ AMOLED display on the Galaxy S5, which is larger than the Apple iPhone 6's 4.7-4.8″ display.
Resolution
Based on the leaked KDB image, the Samsung Galaxy S5 has a slightly higher resolution than the Apple iPhone 6. The Samsung Galaxy S5 will feature 2560×1440 resolution, while the Apple iPhone 6 will feature 2272×1280 resolution.
RAM
The Galaxy S5 wins yet again, with 3GB RAM compared to the iPhone 6's 2GB.
Camera
You really can't go wrong with the Samsung Galaxy S5's 16-megapixel rear-facing camera.  This beast of a camera is sure to take some phenomenal photos. The Apple iPhone 6 is rumored to only have an 8-megapixel rear-facing camera.
Who do you think wins the battle of the next-gen smartphones? Let us know your opinion in the comments section below!