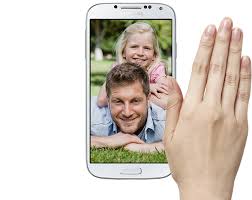 Air View and Air Gestures are two novelty features currently offered in the Samsung Galaxy S4. They allow users to operate their device by making movements or gestures above the phone's sensor.
While it's pretty neat feature that's fun to show off to your friends, it's somewhat limited in terms of everyday function. Most Samsung Galaxy owners prefer to control their device by touch rather than motion, but this could change with the upgraded Air View and Air Gesture technology featured in the upcoming Galaxy  S5.
Will The Samsung Galaxy S5 Feature New and Improved Air View and Air Gesture Technology?
Although there's no official word yet regarding any of the official hardware specs for the upcoming Samsung Galaxy S5, there's evidence suggesting that it will in fact have a new and improved version of the company's patented Air View and Air Gesture technology. Perhaps these improvements could turn this otherwise novelty feature into something that Galaxy owners access and use on a daily basis. I guess we'll find out in a couple of months when the Galaxy S5 hits the market!
New Motion Tech Coming To Both The Galaxy S4 and S5
Earlier this month, ETNews published an article suggesting that both the current Samsung Galaxy S4 and upcoming S5 models will feature newly upgrade touch controller screens by the end of the year. Synaptics, the company responsible for designing the touchscreens, has reportedly made several huge improvements to their motion-detection technology, allowing for greater accuracy with Air View and Air Gesture.
If Synaptics is capable of improving the accuracy and distance of Air View and Air Gesture, it could open up a whole new world of possibilities for Samsung Galaxy owners. Rather than physically touching the screen to perform tasks, you could control it from afar. Imagine having your Samsung Galaxy S5 sitting on the coffee table and making hand motions from several feet away to access your contact list, email, or even make a call. This may seem like science fiction to some, but it's becoming more of a reality thanks to technology like Air View and Air Gestures.
Better Stylus Functionality, Too!
According to TheNewsTribe.com, the Samsung Galaxy S5 will also feature an upgraded stylus functionality. Once the new tech and hardware rolls out, it will be able to accurately read a stylus as small as 2.5 pi.
Do you currently use Air View and Air Gesture to control your Samsung Galaxy device? Let us know in the comments section below!