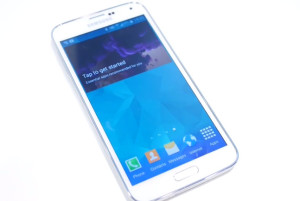 Following Samsung's unveiling of their highly anticipated Galaxy S5 smartphone, the South Korean-based tech company recently announced plans to provide users with over $500 in free apps. The Galaxy S5 has already drawn praise for its unique combination of style, simplicity and power — which are three key selling points for most smartphone buyers today. Now, however, Samsung has taken their game to the next level by offering apps valued at over $500 for Galaxy S5 owners.
The free app program, rightfully titled Galaxy Gifts, was announced earlier this week. And while some people may turn their head at the notion of so-called "free" apps, the lineup actually looks pretty good. Whether you intend to use your Galaxy S5 for multitasking or strictly to make calls, there are plenty of apps in the Galaxy Gifts program designed to make your life easier.
"Meaningful rewards from the world's top brands to make your GALAXY S5 experience even more enjoyable and productive. From fitness to news to productivity apps, the Samsung GALAXY S5 comes with free, long-term subscriptions and premium services," says Samsung on their Galaxy Gifts webpage.
RunKepper: 1 year free premium service (valued at $20)
Lark: 1 year free premium service (valued at $36)
Skimble: 6 months free premium service (valued at $42)
Map My Fitness: 6 months free premium service (valued at $36)
Wall Stress Journal: 6 months free premium service (valued at $160)
Bloomberg Business: 12 months subscription (valued at $30)
PayPal: Special offers totaling $50 or more in value.
LinkedIn: Free Premium account for 3 months (valued at $75)
EasilyDo Pro: Free app purchase (valued at $5)
Blurb: Free $5 coupon
Cut The Rope 2: $10 in-game credits
Flick Dat: Free $2 app download
Box: Free 50GB storage for 6 months (valued at $60)
Bitcasa: 1TB storage for 3 months (valued at $40)
Evernote: Free premium service for 3 months (valued at $15)
For a full list of free apps bundled with the Samsung Galaxy S5, visit the company's official Galaxy Gifts webpage here.
There's still no word yet on when the Galaxy S5 will be released to U.S. cell carriers. It could be next week or several months from now; we still don't know. With that said, news of the Galaxy Gifts program is likely an indicator that carriers will offer the device sometime in the near future. Be sure to check back with us here at galaxy5us.com for all the latest news on the Samsung Galaxy S5!
Do you think these apps will entice consumers to purchase the Samsung Galaxy S5? We'd love to hear your opinion in the comments section below!