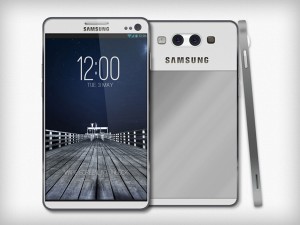 In case you didn't get the memo, Samsung officially unveiled their highly anticipated Galaxy S5 at the Unpacked 5 event in Barcelona, Spain. And just as expected, Samsung managed to blow everyone away with the unique combination of style, performance and simplicity to achieve a smartphone that's superior to the Apple iPhone 5S (and probably the iPhone 6), Google Nexus 5, and other devices. If you're still on the fence about purchasing one, though, keep reading to learn 5 of the top benefits it offers.
Reason #1) Dust and Water Resistant
Dropping your smartphone in the toilet is an easy way to ruin your day. Thankfully, the Samsung Galaxy S5 is designed with durable dust and water-resistant glass, eliminating problems such as this. We still don't recommend going for a swim with your Galaxy S5 in your pocket, but it's nice to know that Samsung has taken steps to reduce the chance of water damage with their latest design.
Reason #2) Removable Battery
The Samsung Galaxy S5 features a removable battery, meaning you can pick up a spare for those emergency situations when you run out of juice. I'm a huge fan of removable batteries, and personally I think all smartphones should have them. Samsung really stepped up their game by implementing a removable battery in the Galaxy S5.
Reason #3) Improved Sensors
Sure, the Galaxy S4 has Motion Gesture and other sensors, but Samsung has improved and built on to this technology with the Galaxy S5. The new Galaxy S5 is able to monitor your heart rate (great for exercising or playing sports), and it can perform a variety of tasks using the built-in fingerprint scanner.
Most people assume the fingerprint scanner is only useful for unlocking the device, but users can actually program each of their fingers to perform a specific task, such as logging into social media accounts, opening applications, etc.
Reason #4) Same Pricing as The Galaxy S4
Most U.S. carriers have yet to disclose the Galaxy S5's pricing, but rumors suggest that it will fall in line with its predecessor: the Galaxy S4. If these rumors are correct, you can expect the Galaxy S5 to cost around $200 with a 2-year contract or $600-$700 without a contract.
Reason #5) Small But Subtle Interface Improvements 
There are dozens of small nuances with the Galaxy S5's interface that really sets it apart from the S4. Upon using the device for the first time, you'll notice a slightly revamped TouchWiz interface along with a new and improved virtual keyboard, camera screen, and other changes.