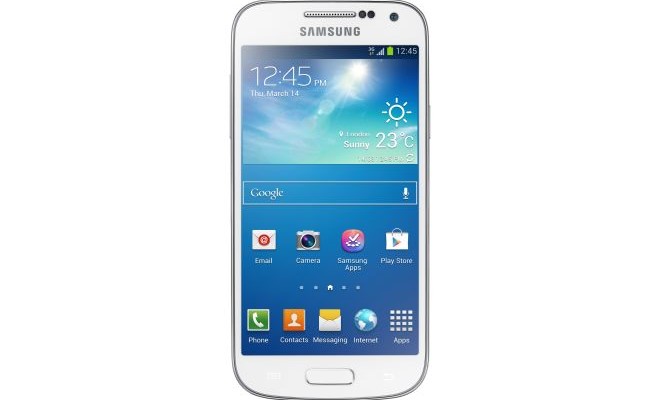 Although Samsung has yet to announce an official release date for the smaller, more compact "Mini" variant of its flagship smartphone, the Galaxy S5, several websites have leaked infromation regarding this upcoming variant.
According to GSM Arena, the new Samsung Galaxy S5 Mini will follow the same tune as the previous Galaxy S4 Mini. It will feature the same body style and design — only on a smaller scale.  The Galaxy S4's screen was roughly 4.3 inches, which is about 20% smaller than the Galaxy S5's screen. So, what kind of screen size can we expect to see with the Galaxy S5 Mini? BGR claim it will feature a Super AMOLED screen at 4.5 inches  (1280 x 720 resolution) — just slightly larger than the Galaxy S4 Mini.
The Galaxy S5 Mini is aimed to attract budget-conscious consumers and first-time Android users alike. Assuming Samsung prices it in a similar manner as the S4 Mini, you can expect the Galaxy S5 Mini to cost $100-$200 less than the  launch-edition Galaxy S5. Consumers who aren't willing to sign into a 2-year contract with their cell carrier often skip the Galaxy S5 due to its $600-$700 price tag. The Galaxy S5 Mini, however, could prove to be a more cost-affordable option that allows consumers to get their hands on Samsung's flagship smartphone without dipping into their saving's account.
In terms of processing power, rumors suggest the Galaxy S5 Mini will boast a quad-core Qualcomm Snapdragon 400 chipset (exact chip not mentioned). Samsung will probably use a slightly less powerful chip to save money on manufacturing costs, but you could on it packing a quad-core Qualcomm Snapdragon processor at the very least.
The Galaxy S5 Mini is likely to feature 16 GB of storage along with a microSD slot for additional storage.
One potential drawback of the Galaxy S5 Mini is its lack of RAM. According to reports leaked to various websites, it will feature just 1.5 GB RAM, whereas the Galaxy S5 features 2 GB RAM. How much of a difference does 0.5 GB make? We really can't say without testing the device for ourselves, but that's a 25% reduction in RAM nonetheless.
Reports also suggest the upcoming Galaxy S5 Mini will feature an 8-megapixel primary camera. If you're the type of individual who takes "selfies" every 30 seconds, you'll probably want to stick with the launch-edition Galaxy S5, as it features a 13-megapixel primary camera.
Do you plan on upgrading to the Samsung Galaxy S5 Mini? Let us know in the comments section below!