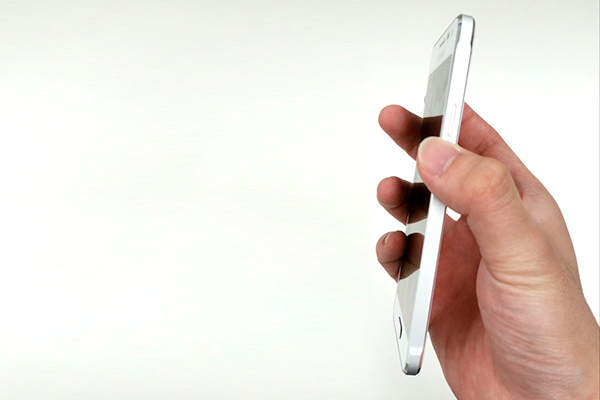 If you're holding out for the Galaxy Alpha, you may be in luck, because sources reveal Samsung is planning to launch the variant this week.
The Galaxy Alpha, previous dubbed the Galaxy F and Galaxy Prime, will boast an entirely new body design (see photo above). Normally, Samsung aims for a sleek, thin design with rounded corners — a standard among major smartphone manufacturers. The Galaxy Alpha takes a different approach, however, as it's noticeably thicker with squared-off corners. Even so, reports suggest the Galaxy Alpha is still thinner than the Apple iPhone 5S, striking another win for Samsung in its battle against Apple.
Leaked photos of the Galaxy Alpha also reveal a new material used in the design of its body. The current Galaxy S5 launch-edition features an all-plastic body, which is both lightweight and durable. However, critics claim the all-plastic body is somewhat cheap and doesn't coincide with Samsung's objective of producing cutting-edge smartphones and mobile devices. Will the Galaxy Alpha use an all-metal body instead? Based on the leaked photos, it appears it will use at least some metal parts in its body (possibly aluminum?). Whether or not it's an all-metal body, however, remains to be seen.
There are some potential disadvantages to the Galaxy Alpha, including its smaller screen size. While the launch-edition Galaxy S5 features a 5.1-inch display at 1080p resolution, the Galaxy Alpha features a smaller 4.7-inch display at 720p resolution. That's a pretty noticeable difference that's sure to leave some consumers wanting more. Both the Galaxy S5 and Galaxy Alpha, however, boast AMOLED display technology for exceptionally clear and crisp images.
The Galaxy Alpha is rumored to have a 12-megapixel camera, which is slightly smaller than the Galaxy S5's 16-megapixel camera. Assuming it uses the same stabilization technology as the Galaxy S5, though, it should outperform most other smartphone cameras on the market.
So, when can you expect to see the Galaxy Alpha available for sale? According to a South Korean news agency, Samsung will launch the highly anticipated variant of its flagship smartphone this week. The agency did not publish a specific date, but cited insider sources that it will happen sometime this week. This of course would make sense given the fact that Apple is preparing to launch its iPhone 6 in the upcoming months. By pushing its Galaxy Alpha variant before the iPhone 6, Samsung may convert some Apple users.
What are your thoughts on the Galaxy S5 Alpha? Let us know in the comments section below!