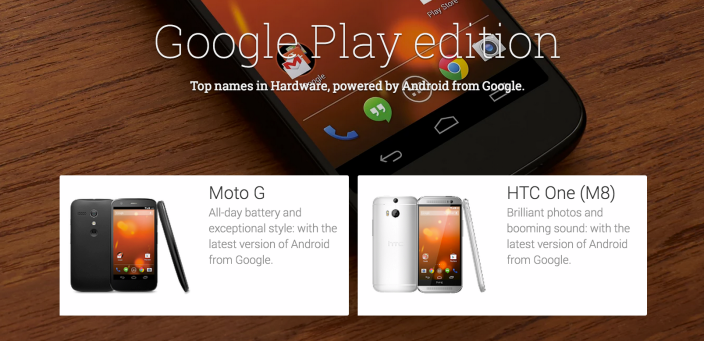 Google added several devices to its Google Play lineup in summer 2013, including the Moto G, Samsung Galaxy S4, and HTC One (M8). Rather than purchasing these devices through a dubious third-party, consumers can buy them directly from Google. This of course adds another level of security to the transaction, easing consumers worries about receiving a dead-on-arrival (DOA) device. Rumors are now swirling, however, that Google may add the Samsung Galaxy S5 to its lineup of devices offered on Google Play.
Back in April, Google edited its Google Play listing of the Galaxy S4 to include a photo of the Galaxy S5. Following this move, consumers immediately began to speculate whether or not Google was planning to add the Galaxy S5 to Google Play. After all, why would they add a photo of the Galaxy S5 to Google Play if they weren't planning to add it. Unfortunately, Google did not add the Galaxy S5 (yet), but there's still hope on the horizon for consumers looking to purchase Samsung's flagship device through Google Play.
Smartphone leaker evLeaks confirmed a Google Play edition of the Samsung Galaxy S5 earlier this month, publishing a press rendering photo that's complete with Android 4.4.4. KitKat. Granted, evLeaks has been wrong in the  past, but he has a pretty good track record of publishing accurate and reliable news. Did he really acquire a press rendering of the Galaxy S5 Google Play edition? We can't say for certain, but the photo (click here to view) certainly looks real.
Of course, Google Play has gone through some serious changes over the past 12 months. While Google replaced the photo of its Google Play edition Galaxy S4 with an image of the Galaxy S5, it also removed the Galaxy S4 from its lineup. This move could, however, be a sign of the Galaxy S5 being added to the lineup. If the company plans to add the Galaxy S5 to Google Play, then there's really no point in leading the outdated Galaxy S4.
Neither Google nor Samsung have yet to confirm the presence of a Google Play edition Galaxy S5, so we still don't know when, or even if, Samsung;s flagship smartphone will come to Google Play. In the meantime, though, you can check back with our us here at GalaxyS5US.com for all of the latest news on the G5.
Would you purchase the Galaxy S5 through Google Play? Let us know in the comments section below!