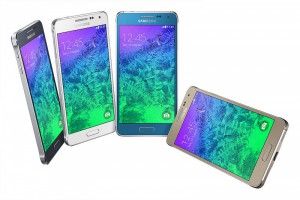 We've known about Samsung's premium smartphone for months now. The device was originally rumored to be named the "Galaxy Prime," but recent reports suggest it will be called the "Galaxy Alpha." What we don't know, however, is when exactly Samsung plans to release it, or why they are taking so long.
This year, we've seen an influx in smartphones with large screens that teeter on the line of being called a phablet. The Galaxy S5, for instance, boasts an impressive 5.1″ display, and Apple announced that both the iPhone 6 and iPhone 6 Plus would feature larger display screens. So, what size screen will Samsung include in its upcoming Galaxy Alpha? According to PhoneArena.com, the Galaxy Alpha will have a slightly smaller 4.7″ Super AMOLED display with 720 by 1280-pixel.
What truly makes the Galaxy Alpha stand out from the rest, however, is its physical design. It may have a smaller display screen with a lower pixel resolution, but the overall body design is quiet impressive to say the least. At just 6.7 mm, it's the thinnest smartphone manufactured by Samsung — even thinner than the Galaxy S5. In addition to its sleek and slim design, the Galaxy Alpha also boasts an all-metal body. This is in stark contrast to the Galaxy S5 and previous generations of the Galaxy, which were made of traditional plastic materials. The metal body adds a unique premium feel that's not found in other smartphones, which is something consumers have been requesting for a while.
The Galaxy Alpha sounds like an amazing smartphone, but unfortunately Samsung has yet to announce a release date. So, what's stopping them from releasing the all-metal Alpha variant? According to Christian Post, the reason for the delay could be related to the phone's metal body. As a result, this could limit the Galaxy Alpha to certain markets, such South Korea.
"A worldwide release, however, is uncertain as there are rumors that a working prototype or alpha build is difficult to get hold of. Having to increase the screen size to accommodate the QHD display. Samsung is also reportedly having difficulties producing the metal cases for the phone meaning only a limited number of phones will be built. The limitation might even make the Galaxy Prime a South Korean exclusive release," wrote the Christian Post.
What do you hope to see in the Galaxy S5 Alpha? Let us know in the comments section below!