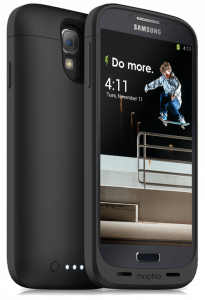 Mophie, one of the most leading manufacturers of extended battery smartphone cases, recently released a case for the Galaxy S5. Samsung's flagship smartphone is already touted as being one of the most power-efficient devices on the market, offering an average of 21 hours talk time per single charge. And users can stretch their Galaxy S5's battery even longer by using its Ultra Power Saving Mode. So, do you really need Mophie's extended battery case?
The Galaxy S5 features a removable 2,850 mAh battery, meaning you can carry a backup if you can't seem to keep your device charged. When your device runs out of juice, you can simply replace the battery for instant power. There's no faster or easier way to recharge your device. With that said, Galaxy S5-compatible batteries aren't cheap, so it's probably a smarter move to invest in an extended battery case, such as Mophie's.
You might assume that Mophie's case for the Galaxy S5 features the same 2,850 mAh battery. After all, this is the battery type used in the Galaxy S5, so it would only make sense for Mophie to include it in its case. According to the company's official product listing, though, it features a larger 3,000 mAh battery. This means you'll get at least twice as much talk talk/usage out your Galaxy S5 by using Mophie's extended battery case.
So, how much does Mophie's extended battery case for the Galaxy S5 cost? The company's website currently has it listed for $99.95. It's not cheap by any means, but the fact is that most extended battery cases are priced within this range. If you're always on the go and can't seem to keep your Galaxy S5 charged, then it's probably a smart investment. On the other hand, people who stay mostly at home or work — where they can charge their device via a wall outlet — can get by without Mophie's case.
Mophie's extended battery case is available in wide range of colors, including black, white, red, pink and gray.
"Complete protection. Inside and out. The durable yet sleek, light-weight design of the juice pack guarantees your Galaxy S5 receives complete protection from everyday wear and tear. A subtle lip around the screen ensures edge-to-edge protection and internal rubber bumpers absorb shock from occasional falls."
What do you think of Mophie's extended battery case for the Galaxy S5? Let us know in the comments section below!