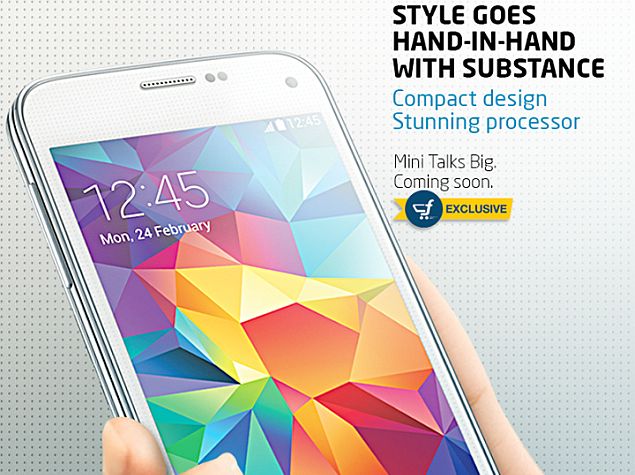 The India-based online retailer giant Flipkart has acquired exclusive rights to sell the Samsung Galaxy S5 Mini Duos on its website. While the company has yet to announce an official release date for the slimmed down device, reports suggest it will be released in the upcoming weeks.
So, how do we know that Flipkart acquired exclusive selling rights for the Galaxy S5 Mini Duos? If you keep up with their Facebook page, you may have noticed a post regarding the device. Flipkart published a promotional image of the Galaxy S5 Mini Duos along with the following caption: "Style goes hand-in-hand with substance. Compact design. Stunning processor. Mini talks big. Coming soon. Exclusive."
Just 20 hours after the post was made, it has already received some 250 comments, some of which are positive and others negative. Jatin Anam wrote: "Now a days flipkart is charging more rates than other online marketing shops. Come on flipkart you are slowly loosing your market share." Nonetheless, Flipkart remains India's leading e-commerce website. During a round of investor fundraising earlier this year, the company raised an eye-opening $1 billion plus, surpassing predictions from even the most optimistic market analysts.
Of course, this isn't the first time the online retailer has acquired exclusive selling rights for a smartphone. Earlier this year, Flipkart sold Motorola's budget-friendly Moto G smartphone exclusively on its website.  Apparently this move paid off, because they are taking a similar approach with the Samsung Galaxy S5 Mini Duos.
So, is the Samsung Galaxy S5 Mini Duos worth purchasing? There are both advantages and disadvantages to Samsung's latest variant. The new Galaxy S5 Mini Duos features the same IP67-certified dust and water resistance body (a huge benefit for people who are constantly dropping their phones), along with the coveted Ultra Power Saving Mode, private mode, kids mode, heart rate sensor and fingerprint scanner.
Now let's take a look at the disadvantages of the Galaxy S5 Mini Duos. Samsung nixed the 16-megapixel primary camera in favor of a smaller 8-megapixel camera for the Mini Duos. Granted, it still has LED flash technology, but the difference between 16 and 8 megapixels is like night and day. The Mini Duos also has a smaller display screen, slower processor and less RAM.
Do you think it's fair for a single retailer to have exclusive selling rights to a smartphone? Let us know what you think in the comments section below!