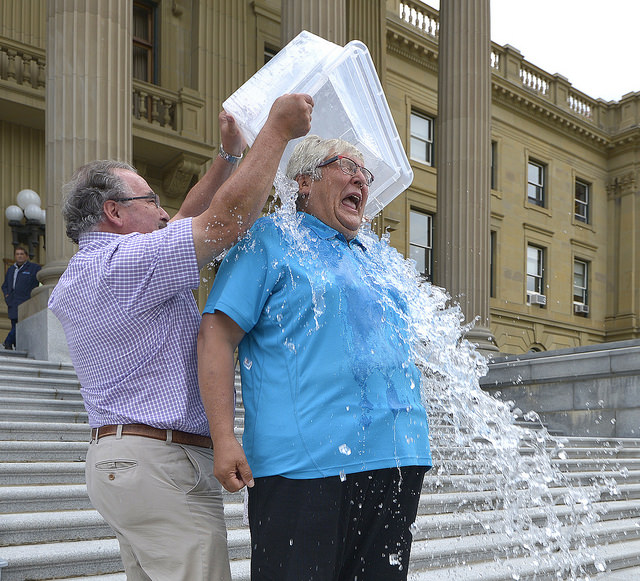 Hundreds of thousands of people have dumped buckets of ice water over their heads to raise money for the nerve cell disease Amyotrophic lateral sclerosis (ALS), also known as Lou Gehrig's disease. Everyone from Jamie Foxx to former U.S. President George Bush have participated in this "chilling" activity, but there's a new contender who's amped and ready to take the challenge: Samsung's flagship smartphone, the Galaxy S5.
Being the marketing genius that it is, Samsung uploaded a video to its YouTube account last week which shows the Galaxy S5 being splashed with ice water (we presume it's ice water, at least). During the short 15-second video, a computer voice says "I am the Samsung Galaxy S5. This is my ice bucket challenge. Gosh, this is freezing. I nominate the iPhone 5S, HTC One (M8), and Nokia Lumia 930." Granted, it's a short video, but it's sill quite comical and worth checking out, especially if you're a fan of the Galaxy S5.
Note: no Galaxy S5 devices were harmed during the making of this promotional film. The Galaxy S5 features IP67 dust/water-resistant technology; therefore, it's able to hold up under the stress of the ice bucket challenge. Samsung really went out of its way to create a smartphone that wouldn't damage when exposed to water, because let's face it, nearly everyone has dropped their phone in the toilet or a puddle of water at some point or another.
I wouldn't expect the iPhone 5S, HTC One (M8) or the Nokia Lumia 930 to take the ice bucket challenge, though. While the Samsung Galaxy S5 is resistant to water and able to withstand moisture exposure, these other devices are not water resistant. Of course, this is probably why Samsung nominated them in its promotional video. But it would be rather amusing to see the Apple iPhone 5S take a dunk from a bucket of ice water.
Video: Samsung Galaxy S5 ALS Ice Bucket Challenge
Click on the play button above to see the Samsung Galaxy S5 take the ice bucket challenge.
"We are calling out all of our followers for the ALS Ice Bucket Challenge. Our Galaxy S5 just did it for the Motor Neurone Disease Association. Donate here www.mndassociation.org," wrote Samsung's in the video description.
Photo credit: Premier Dave Hancock via Flickr Creative Commons.
Have you taken the ice bucket challenge? We'd love to hear your story in the comments section below!