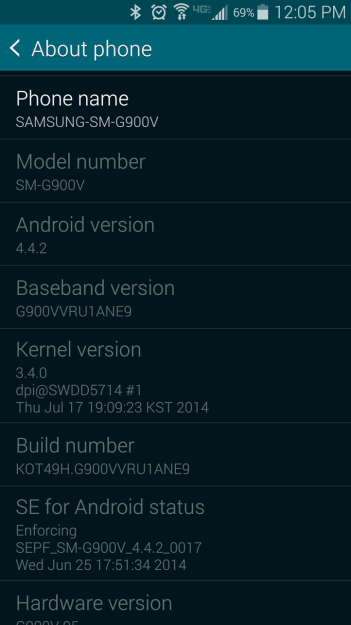 Galaxy S5 owners on Verizon Wireless may notice a new software build on their device in the upcoming days. Starting last week, the country's largest cell carrier began quietly rolling out build G900VVRU1ANE9 to the Galaxy S5. While most of the changes made in the update are small, and it still runs the Android 4.4.2 OS, it still patches some security vulnerabilities while solving numerous bugs and issues reported by users.
According to Verizon Wireless' official website, the new Galaxy S5 OTA update affects the Caller Name ID, Message+, and Cloud.
Some of the fixes in the OTA update include the following:
Search icon is no longer displayed on Memo when there is no memo available.
Contact information for Favorites is now more visible in the background.
Visual Voicemail now works when S-View flip cover is shut.
Improved connectivity when streaming music.
Improved stability for Samsung Gear Manager.
Factory installed car kits receive text alert improvements.
When in Emergency Mode, Primary Contacts list is now called Emergency Contacts.
The Power On password is no longer triggered after completing a voice call  and the screen dims.
Verizon Wireless also added support for the following apps and services in its latest Galaxy S5 OTA update:
Ability to choose user when uploading videos from the Galaxy S5 to YouTube.
Closed captioning added to Message+.
Emergency Mode receives a new update to fix various bugs and errors.
Improved stability added to the Contact Menu.
Images added to the Easy Mode Settings.
New Download Apps field added to searchable file types in the Galaxy  S5's My Files.
S Finder now has Web Search.
It's important to note that this OTA update may interfere with rooted Galaxy S5 devices. One user reportedly ran the update on a rooted Galaxy S5 only for it to break. There are obviously some risks involved in rooting, and this is one of them. When cell carriers push new updates, it may cause incompatibility issues with modded devices, so make sure your device is backed up! Alternatively, you choose to avoid this update if your device is rooted/modded.
This is still the same Android 4.4.2 as before, but Verizon Wireless brought well over a dozen fixes and improvements in its most recent OTA update for the Galaxy S5.
Are you running the latest Verizon Wireless OTA update on your Galaxy S5? Let us know what you think in the comments section below!