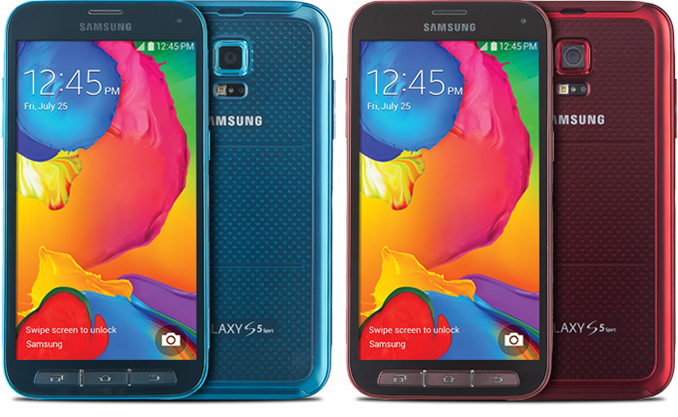 John says check out SAMSUNG GALAXY S4 MINI GT-i9195 8GB-UNLOCKED International Version Black LTE 800 / 850 / 900 / 1800 / 2100 / 2600MHz.
On June 23, Samsung and Sprint announced the Galaxy S5 Sport, stating a global release date for July 25th.
The new device takes a page from the Galaxy S4 Active — offering helpful health and fitness apps and utilities. But there's more to the Galaxy S5 Sport than its complimentary health and fitness tools. As you can see from the photo above, it features a rugged, more durable body. The company claims this body is designed for active people who are constantly running, jumping, exercising, or performing other activities.
The hardware specs for the Galaxy S5 Sport are roughly the same as the launch-edition Galaxy S5. It will feature a 5.1″ 1920×1080 Super AMOLED display, 2.5 GHz quad-core Qualcomm Snapdragon 801 processor, 2 GB RAM, a 16-megapixel rear-facing camera with SOCELL technology, and a 2-megapixel front-facing camera. In addition, the Galaxy S5 Sport will boast physical navigation buttons located at the bottom, which should prove useful for gym-goers with sweaty fingers.
In terms of weight, the Galaxy S5 Sport tips the scales at 158 grams. Granted, this is still lighter than most next-gen smartphones on the market, but it's also heavier than the original Galaxy S5.
It should go without saying that the Galaxy S5 Sport — like the original Galaxy S5 — will feature IP67 dust and water-resistant technology. There are numerous videos published online of people submerging their Galaxy S5s in water without causing any damage. It's important to note, however, IP67 simply means that it's water resistant, not waterproof. So even if your Galaxy S5 Sport holds up under the pressure of water submersion, this isn't something I recommend doing.
"We continually innovate to provide our customers with new products that can improve their lives," said Sprint CEO Dan Hesse during an interview with reporters. "Previously, Sprint brought together Harman Kardon, HTC and Spotify to redefine how music should sound on the modern smartphone. Today, Sprint joins leading innovators in Samsung, Under Armour and MapMyFitness to drive technology advances for fitness, health and wellness."
Since this device is being released in partnership with Sprint, it's compatible with the Sprint's EV-DO network. It will also support  2×2 802.11ac, Bluetooth 4.0, USB 3.0, GPS, MHL, DLNA, and NFC.
But the real beauty of the Galaxy S5 Sport lies in its software. According to the company's press release, it will feature a 12-month membership to MapMyFitness MVP, a 6-month membership to Spotify premium, health and fitness updates, and other health-related goodies.