The Samsung Galaxy S5 may soon be available for purchase through Google Play. Last month, Google temporarily published a tiled image on Google Play depicting several smartphones, including the Samsung Galaxy S4. The Mountain View company has since taken the image down, but it leaves us wondering: will the Galaxy S5 come to Google Play?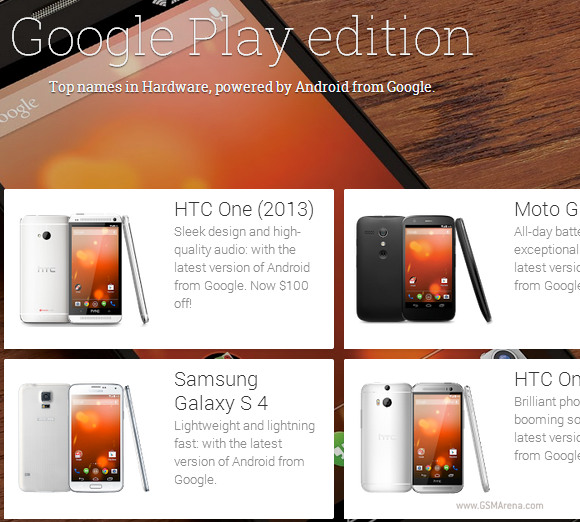 As you can see from the image screenshot image published above, it was the Galaxy S4 depicted on Google Play, not the S5. Was this a humor error by a Google employee, or is Google really planning to release the Galaxy S4 on Google Play? It's doubtful (although not impossible) that Google would add the Galaxy S4 to its Google Play Edition (GPE). If they are going to add more smartphones, you can bet they are going to be recent-model flagships like the Galaxy S5.
Upon closer inspection of the image, you'll notice the so-called "Galaxy S 4" is actually the S5. It features the textured back, sunbeam wallpaper and other identifiable characteristics — yet the name depicted for the device is the "Samsung Galaxy S 4."
If your mind isn't boggled yet, it will be: the Galaxy device depicted in the Google Play screenshot reveals the hardware and software keys on the front of the device, which is something that Samsung has yet to attempt. Again, this could merely be human error, or it could be a sign of something more to come. There's been no official word yet from either Samsung or Google regarding the screenshot published on Google Play.
Will Google add the Samsung Galaxy S5 to its GPE lineup? The answer is probably. Google has traditionally kept to its Nexus line of smartphones on Google Play, which continue to perform well in the highly competitive mobile market. However, they recently changed direction by introducing the HTC One (M8) to Google Play for $699. Google added the Sony Z Ultra GPE last December, which is being sold for $449 after it received a $200 price cut. A more budget-friendly Moto G GPE was released on Google Play easier this year with a sticker price of $179.
With Google continuing to add more smartphones to its Google Play Edition lineup, there's a good chance we'll see the Galaxy S5 GPE available in the near future. If the Galaxy S5 is added to Google Play, let's hope they are able to keep the price down for consumers.