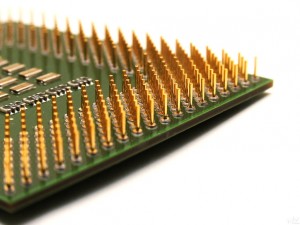 As we draw closer to the Samsung Galaxy S5's release, consumers and tech industry analysts alike are speculating over the type of processor it will feature. It's no secret that the overall performance of a smartphone is directly linked to its processor, and in keeping up with Samsung's tradition of producing next-gen tablets, phones and devices, you can expect the S5 to pack some serious power.
For most consumers, processor speed is big selling point when choosing a smartphone. Even if you have a good 4G signal with your respective cell carrier, a slow processor can bog down 'normal' operations. Rather than loading a YouTube in just a couple seconds, perhaps it takes your smartphone several minutes. This is why so many eyes are fixated on the Samsung Galaxy 5S's processor.
Sorry, The 8-Core Processor Rumor is Just a Rumor
In an article published at BGR.com, they originally hinted towards the Samsung Galaxy S5 featuring a whopping 64-bit 8-core Exynos processor. However, editors later updated their site, stating that this was probably not true. With so many rumors floating around regarding this upcoming device, it's oftentimes difficult to separate the facts from the fiction.
But this doesn't necessarily mean the Samsung Galaxy S5 will feature a sub-par processor. On the contrary, Samsung announced plans to use two all new Exynos 6 and Exynos S processor chips to compete with the current processor chips powering the iPhone 5S. Since news of this decision came directly from Samsung, you can count on this being the truth. Although they don't feature 8 cores (as rumored above), the two new Exynos processors are bound to pack a serious punch of power. And there's a good chance they'll remain 64-bit, which is another key factor in performance.
Why The Samsung Galaxy 5S Processor Will Trump The iPhone 5S
Samsung has had ample time to identify the strengths and weaknesses of the 64-bit A7 processor powering the Apple iPhone 5S. Using this information, they're able to improve the processor for their upcoming flagship Galaxy S5. The A7 processor is currently considered one of the best (if not the best) smartphone processor; it's fast, reliable and most importantly — efficient. However, Samsung is the one company who's able to compete with the hardware engineered by Apple, and you can expect some serious processing power driving the upcoming Galaxy S5.
So, what kind of processor do you want to see in the Galaxy S5?