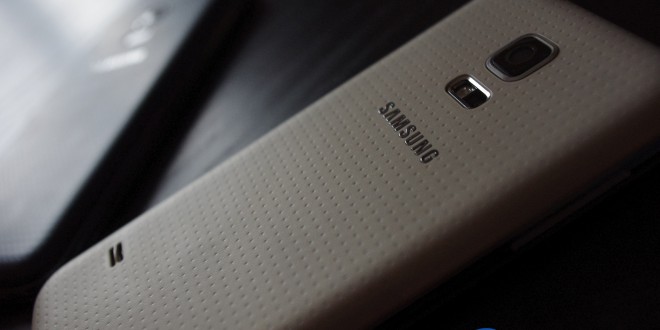 Rumors have been circulating about Samsung releasing a smaller, more compact "Mini" variant of its flagship smartphone, the Galaxy S5, for some time. In keeping up with the company's tradition, however, they've kept quiet about the specs and details surrounding this device. But we now have a first-hand look at the Samsung Galaxy S5 Mini thanks to several leaked photos.
Body
The photos of the Galaxy S5 Mini were reportedly sent to Sam Mobile from an anonymous tipster.  They show what appears to be a device with the same body style and back as the launch-edition Galaxy S5 — only on a smaller scale. As you can see in the photo above, it even possess the same dotted plastic back with rounded edges as the original Galaxy S5, further authenticating the belief that these are in fact real photos of the Galaxy S5 Mini.
Heart Rate Monitor
The device depicted in the leaked photos also show the heart rate monitor in the same spot — directly underneath the rear-facing camera. There was some doubt on whether or not Samsung would even include the heart rate monitor in the Galaxy S5 Mini, but these photos reveal the presence of this nifty little feature in the smaller Galaxy S5 variant.
Dust and Water Resistant
According to Sam Mobile's anonymous tipster, the Samsung Galaxy S5 Mini will feature the same IP67 dust and water-resistant technology as the original Galaxy S5. This is welcome news for users who frequently drop their phones, as there's nothing worse than accidentally dropping your brand new Galaxy S5 in the toilet. Granted, this doesn't necessarily mean the device is waterproof, but it's able to withstand certain "exposure" to water. Of course, this is more protection than most smartphones offer, and critics have generally have responded with praise towards Samsung's use of IP67 dust/water-resistant technology.
Rumored Benchmarks For The Galaxy S5 Mini
4.5-inch 720p Super AMOLED display
Gorilla Glass screen for a superior level of protection
1.4 GHz Exynos 3 quad-core processor
1.5 GB RAM
16 GB expandable storage
8-megapixel rear-facing primary camera
1.2-megapixel front-facing secondary camera
Android KitKat 4.4.2
LTE connectivity
Wi-Fi 802.11n
GPS
Micro USB
and more…
It's important to note that none of these specs have been confirmed by Samsung. These are simply the current "rumored" specs for the upcoming Galaxy S5 Mini variant.
What do you think of the Samsung Galaxy S5 Mini? We'd love to hear your opinions in the comments section below!