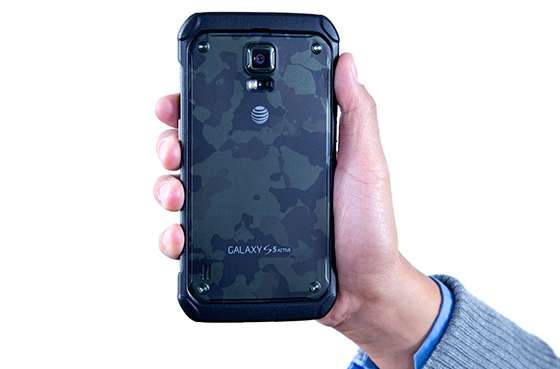 The ultra-durable Samsung Galaxy S5 Active is now available through AT&T. On June 29, the U.S. cell carrier silently added it to their lineup of devices available for purchase through their website. Before you go trading in your smartphone for an upgrade, however, you should read our review on the Galaxy S5 Active variant.
Dust, Water and Shock Resistant
Not to our surprise, the Samsung Galaxy S5 Active features a rugged dust, water and shock-resistant shell. It's able to withstand drops from 4 feet on a flat surface, and it can be submerged in water 3-feet deep for 30 minutes (although I don't recommend the latter).
Granted, the launch-edition Galaxy S5 also boasts dust and water-resistant technology, but the variant looks and feels stronger and more durable. As you can see from the photo above, it's beefier with four large bolts attached to the rear. We're not sure if these bolts serve a purpose, but they are pretty cool looking nonetheless.
Activity Zone
Another major change in the Samsung Galaxy S5 Active is the addition of an all-in-one button that launches every health and fitness app.  The button, dubbed Activity Zone, is located on the side of the device. When pressed, it launches all health and fitness apps — all on the same screen.
We haven't had the opportunity to test this feature in person, but it sounds useful enough. Given that this is the Active variant of the Galaxy S5, it only makes sense to include some health and fitness features such as Activity Zone. I'm sure most people will find the added side button to be a huge convenience when you're jogging, running, playing sports, or performing any other physically intense activity.
Price
How much is the Galaxy S5 Active going to set you back? Currently, AT&T is selling it for $199.99 with a 2-year contract. Here's the bad news, though. If you aren't willing to sign a 2-year contract, you'll have to shell out $714.99 for the device. AT&T also offers an installment payment plan of $35.75/month for 12 months.
"Most everything proof. Now your smartphone can be just as active as you are. Rugged and powered with innovation, the Samsung Galaxy S® 5 Active™ delivers integrated technology that improves your life and makes every day better."
What are your thoughts on the Samsung Galaxy S5 Active? We'd love to hear what you think in the comment section below!