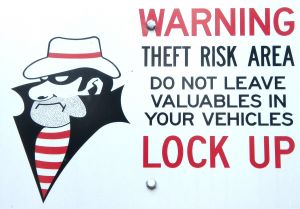 Cellphone theft is a growing problem here in the U.S., with an estimated 113 devices being stolen every minute! From the east coast to west, cellphones are being lifted at an alarming rate. In an effort to curb these numbers in the opposite direction, Samsung recently announced plans to add two anti-theft tools to the Galaxy S5.
"Find My Mobile" and "Reactivation Lock" For The Galaxy S5
According to a statement made by Samsung officials, the Galaxy S5 will receive "Find My Mobile" and "Reactivation Lock" at no additional cost. If a customers Galaxy S5 is stolen, and the thief attempts to reset the device back to factory settings, the cell carrier can lock it using these two apps; thus, preventing any attempt to reset, activate, or otherwise modify its software.
But there's a catch to the upcoming Galaxy S5 anti-theft tools: they will only work with Verizon Wireless and U.S. Cellular devices. If you're on T-Mobile, AT&T or any other network, you'll have to look elsewhere for added security measures. Samsung may add the anti-theft tools to other networks in the future, but as of yet it appears the tools will be restricted to Verizon Wireless and U.S. Cellular.
"Samsung takes the issue of smartphone theft very seriously, and we are continuing to enhance our security and anti-theft solutions," wrote Samsung in a statement about their upcoming anti-theft measures for the Galaxy S5.
Kill Switches: Coming To a Cellphone Near You
News of the Galaxy S5's upcoming anti-theft tools comes in the wake of a kill switch being added to cell carriers in 2015. Apple, Google, Samsung, Microsoft and five of the largest U.S. cell carriers have agreed to implement remote locking technology (AKA kill switch) by July 2015.
The kill switch is designed to perform the following functions:
Remotely delete all personal data — pictures, videos, text messages, contacts — in the event the phone is lost or stolen.
Render the phone inoperable without the correct PIN and/or password.
Prevent reactivation without the original owner's authorization.
Reverse the inoperability if the phone is recovered.
With Find My Mobile, Reactivation Lock, and the upcoming kill switch, the Galaxy S5 should have a nice blanket of protection against theft. Of course, these tools are no substitution for common sense, so remain conscious of your surroundings and the location of your device at all times.
What do you think about Samsung's anti-theft tools? Let us know in the comments section below!