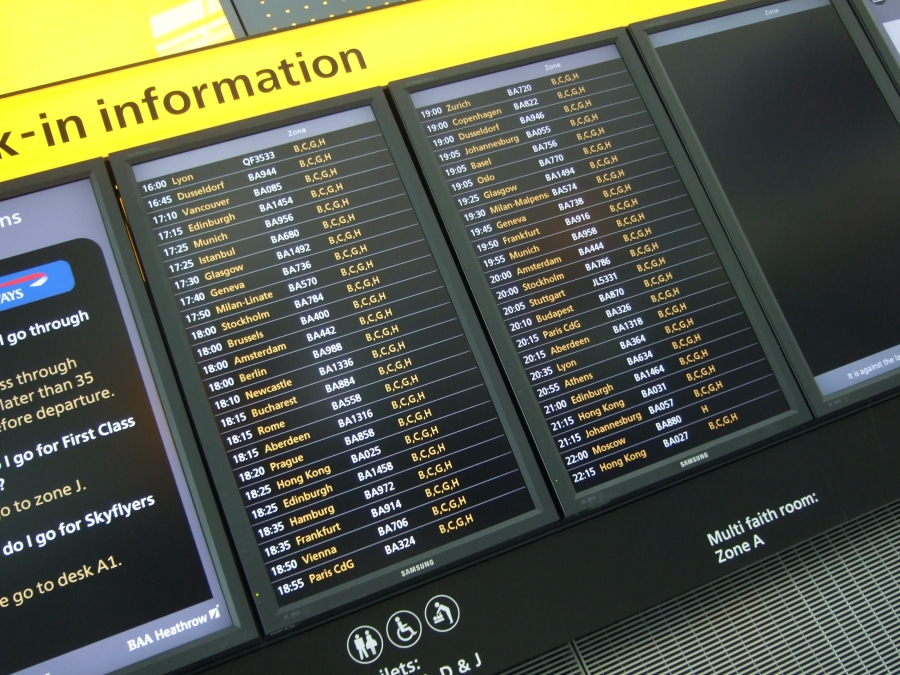 Get see some new changes being made to terminal 5 at London's Heathrow airport. Starting May 19, it will be rebranded from top to bottom to promote the Samsung Galaxy S5. The promotional material will remain in place for 2 weeks, at which point workers will convert terminal 5 back to its original condition.
Why Is Samsung Rebranding Terminal 5?
Why is Samsung rebranding terminal 5 at Heathrow airport? The answer is simple: they want to promote their latest flagship smartphone, the Galaxy S5, which has already reached a monumental milestone of 11 million units sold. Samsung is known to have deep pockets when it comes to advertising and promotions, and you can bet they spent a pretty penny for rights to rebrand the airport terminal.
But if the South Korean company is going to rebrand an airport terminal, it's only fitting to choose terminal 5 (for obvious reasons). Samsung notes that this is the first time Heathrow has ever allowed a company to rebrand terminal 5. Whether or not it proves to be a cost-effective form of advertising for the company, however, is yet to be determined.
Upcoming Changes To Terminal 5
Heathrow's terminal 5 will undergo a complete makeover in the upcoming weeks to promote Samsung's flagship smartphone. The makeover will consist of signage through the entire terminal, including entrance, drop-offs, lounges and security checkpoints. What's even more impressive is that all 172 digital panels in the terminal will be rebranded to say "Terminal Samsung Galaxy S5."
"The initiative includes all signage throughout the Terminal Samsung Galaxy S5 terminal – at the entrance and drop-off locations, in the lounges, at security and at the gates. In addition, all 172 digital panels in the main terminal, gate rooms and baggage reclaim areas will feature the rebrand 'Terminal Samsung Galaxy S5' and images of the Galaxy S5 smartphone," wrote Samsung in a press release.
There's one more major change Samsung has planned for terminal 5 at Heathrow airport: they will allow travelers to test out the Galaxy 5 at Dixons Travel stores in terminal 5. If you happen to find yourself in terminal 5 during the 2 week period (starting May 19), stop by a Dixons Travel store to test drive the Galaxy S5. This is only a temporary deal betting set up between the two companies, so you won't be able to test the Galaxy S5 once the terminal 5 promotion ends.
Do you think Samsung is going overboard with their advertising campaigns? Let us know in the comments section below!