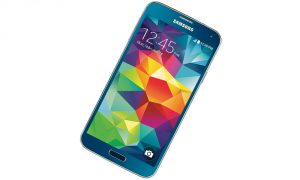 Samsung S Voice is a voice-controlled personal assistant, activator, and navigator that's compatible on over a dozen different Galaxy devices. You can use it to make phone calls, create and send text messages, and even play music (among other things). Being that Galaxy S5 is Samsung's flagship smartphone, it should come as no surprise that it too supports S Voice. So, how do you set up and use S Voice on the Galaxy S5?
To set up S Voice, tap the Home button followed by the Apps drawer (looks like a grid of dots). This will bring up a list of all apps currently installed on your Galaxy S5. Scroll through your apps and choose "S Voice." Remember, apps are arranged alphabetically, so look for apps that start with "S" if you're having trouble finding it.
Tip: another way to open S Voice is by double tapping the home key. Some users prefer the traditional method, however, since frequent use of the home key may wear it down.
Upon opening the S Voice app for the first time, you'll be presented with a Welcome page. Click the Next button in the bottom right-hand corner to proceed to the next page. This page contains the terms and conditions associated with the S Voice app, such as "you further acknowledge and agree that your download, installation and use of such third-party application, service and content are governed by such third-party service providers terms of use, license agreement, etc." Once you've read through the terms, click the "Agree" box in the bottom left-hand corner.
Now you will see a screen with a button for a tutorial. The tutorial is completely optional but recommended for newcomers to S Voice. It walks you through the app while explaining some important commands. To skip the tutorial and jump right into the app, however, you can select the button that says "Start S Voice." Sorry if you were expecting more, but that's all it takes to set up S Voice on the Galaxy S5!
With S Voice set up, you can launch apps, perform Google searches, and do dozens of other tasks using your voice. Want to see what the weather will be like tomorrow? Open the S Voice app and say "What is the weather?"
Here's a brief list of some of the compatible S Voice commands:
Dial [phone number]
Call [contact name]
Text [contact name]
Read my messages
Memo [insert memo]
Read the news today
Let me hear the news
Play next song
Play previous song
Hands free mode on
Hands free mode off
Navigate to nearest shopping mall
Did this tutorial work for you? Let us know in the comments section below!